Grommets & Washers Overview
Stimpson offers four Grommet product lines:
Sheet Metal Grommets, which can be used with Plain Washers, Teeth Washers, or Neck Washers.
Self-Piercing Grommets and Washers
Rolled Rim Grommets and Spur Washers
Oblong Grommets and Washers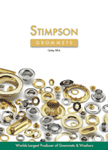 To follow is a brief introduction to each product line, with a link to charts setting forth the specifications for each size.
All Stimpson metal Grommets and Washers are made in the U.S.A., meet the latest government and commercial specifications, and are supported by a full line of grommet machines.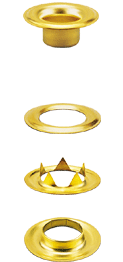 Sheet Metal Grommets
Metal grommets can be used with plain, teeth, or neck washers.
Plain Washers
Basic reinforcement.
Teeth Washers
A firmer, tighter grasp.
Neck Washers
Reinforces the hole with two entire parts.