Grommet Machines
Quality grommets and washers need to be supported by quality tooling and grommet machines.
Whether you require a hand operated bench machine or a fully automatic dual feed grommet machine, Stimpson offers the finest quality products in the marketplace available to you, ensuring that your investment in new tooling or a new machine will be a wise one.
Stimpson Grommet Machines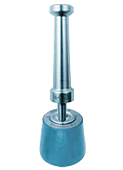 Hand Drive
Used with a wooden or rawhide mallet, Stimpson Hand Drive Tools can be used to set most Stimpson products.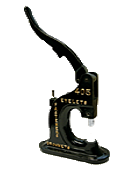 405 Bench Press
The versatile Stimpson 405 Bench Press is available with a heavy duty aluminum frame. Ideal for smaller projects or prototype work, it is especially well suited for setting Stimpson self-piercing grommets and washers in most lightweight fabrics.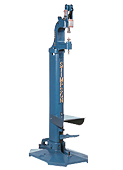 Model 479
The Model 479, an ideal choice when production is limited, is available in foot, pneumatic and electric power formats. It is versatile enough to set most fasteners, and uses tools which are quickly interchangeable. The quality of its settings is equal to that of much larger automatic machines.
Edward Segal Grommet Machines