Grommet Machines
Quality grommets and washers need to be supported by quality tooling and grommet machines.
Whether you require a hand operated bench machine or a fully automatic dual feed grommet machine, Stimpson offers the finest quality products in the marketplace available to you, ensuring that your investment in new tooling or a new machine will be a wise one.
Stimpson Grommet Machines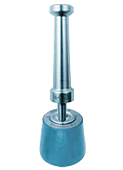 Hand Drive
Used with a wooden or rawhide mallet, Stimpson Hand Drive Tools can be used to set most Stimpson products.
Edward Segal Grommet Machines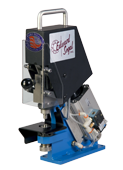 Model 3P6
Model 3P6 is a portable pneumatic press specifically designed for grommet applications. This powerful compact press is capable of punching a hole in a wide range of industrial fabrics and attaching Stimpson grommets and washers (sizes #00 – #8), all in a single cycle. The 3P6 is available in two versions: one for standard fabrics and a second for heavier fabrics and larger grommets. All of the setting tools are interchangeable, and are simply threaded in place, allowing for fast conversions.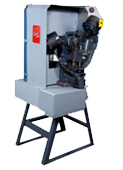 Model 83GW
A dual feed, heavy duty grommet machine which pierces your material while it automatically feeds and sets both the grommet and the washer all with one tripping of the electric foot switch. Available for rolled rim grommet sizes #0 to #4 with matching spur washer, and plain grommet and matching neck or teeth washer, sizes #00 to #4.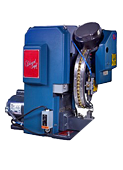 Model 92
The Model 92 Series of grommet machines has been designed for more challenging applicatons such as heavy duty industrial fabrics or setting larger grommets. They offer upgraded power by using a stronger motor and larger flywheel.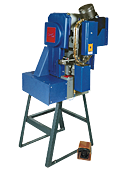 Model 92GW
The 92GW is a dual feed, heavy duty grommet machine. It offers the attractive advantage of being able to make settings in heavy duty industrial fabrics by punching out the hole and then attaching the grommet and washer in a single cycle. Available for grommet and washer sizes #00 to #4 inclusive.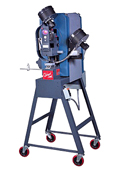 Model 2KGW
Fully automatic, state-of-the-art dual feed grommet machine with material hole punch out and thickness compensating technology. Available for Stimpson grommet and washer sizes #0 to #4.
Model 4KGW
The most advanced grommet machine in Edward Segal™s product line, the 4KGW uses pneumatic force and innovative toggle linkage to cut through multiple layers of the toughest fabrics. The 4KGW has fewer moving parts than mechanical grommet machines, simplifying maintenance requirements. Available for Stimpson grommet and washer sizes #0 to #4.